Charles Esche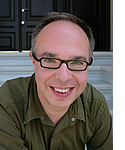 Charles Esche is a curator and writer. He is currently the director of the van Abbemuseum, Eindhoven and editor of AFTERALL, an art publication based at Central St. Martins College of Art and Design, London and CalArts, Los Angeles as well as a visiting theorist at the Rijksakademie, Amsterdam.
In the last years he co-curated the Gwangju Biennale 2002 in Korea with Hou Hanru and Song Wang Kyung and co-curated two large-scale exhibitions: 'Intelligence: New British Art' at the Tate Gallery, London and 'Amateur: Variable Research Initiatives' at Konstmuseum and Konsthall, Göteborg in 2000. In 2002 and 2003, he jointly organised two 'Community and Art' workshops with Asian and European artist groups. From 1998-2002 he organised the international art academic research project called "protoacademy" at Edinburgh College of Art. From 2000 - 2004 he was the director of Rooseum Centre for Contemporary Art, Malmö, Sweden.
He has written for numerous catalogues and magazines including: Lisbeth Bik and Jos van der Pol (forthcoming); What? How? For Whom?, Zagreb; Shifting Map, RABK, Amsterdam; Claudia and Julia Müller, Kunstmuseum Thun; Tobias Rehberger, Galerie der Stadt Stuttgart; Haegue Yang, Sonje Art Center, Seoul; Olaf Nicolai, Kunsthalle Wolfsburg; Superflex, Walther König; Simon Starling, GfzK, Leipzig; Julika Rudelius, Stedelijk Museum Bureau Amsterdam; Berlin Biennale 2001; Douglas Gordon, Kunstverein Hannover; Otto Berchem, Artimo, Amsterdam; Hinrik Sachs, Moderna Museet, Stockholm; Mark Lewis, Film and Video Umbrella, London. An edited volume of his writings in Turkish and English Modest Proposals will be published by Bağlam Press in 2005 and launched at the opening of the Biennial.
From 1993-1997 he was Visual Arts Director at Tramway, Glasgow where he curated exhibitions by Elisabeth Ballet, Christian Boltanski, Christine Borland, Roderick Buchanan Douglas Gordon, Niek Kemps, Jonathan Monk, Stephen Willats and Richard Wright as well as group shows such as Trust and The Unbelievable Truth. He has curated international exhibitions and events around art and new technology at Video Positive 97 and ISEA 98 in Liverpool and Manchester.
Vasıf Kortun
Vasıf Kortun is the director of Platform Garanti Contemporary Art Center. He was the founding director of Proje4L İstanbul Museum of Contemporary Art (2001-2003), and the chief curator and director of the 3rd International İstanbul Biennial (1992). Between 1994 and 1997, he worked as the founding director of the Museum of the Center for Curatorial Studies, Bard College.
His writings and interviews over the last years include Mars, NU, Flash Art, Art Asia Pacific, Art Journal, New Art Examiner, Contemporary ,Crudelia, C Magazine, Ars Atlantic and other magazines, and contributions to publications such as the 48th Sao Paolo Biennial, 2nd Johannesburg Biennial, Manifesta 2, 1999, 48th Venice Biennial, İstanbul Biennial (5, 6 and 8), Zeitwenden, How Latitudes Become Forms: Art in a Global Age and many other exhibition catalouges. He was one of the curators for Fresh Cream: 10 Curators 100 Artists (Phaidon Press), and has also participated in recent publications such as: "Curator's Vade Mecum," Independent Curators International, NY; and Foci: Interviews with ten international Curators.
Exhibitions in 2004 include, Institut für Auslandbeziehungen, Stuttgart, Berlin (co-curator); and Lastwinterspringnevercame, Platform Garanti Contemporary Art Center, (co-curator). In 2003 he was one of the curators of the 2nd Tirana Biennial, Albania; and the 2nd Biennial of Ceramics, Albissola, (co-curator), and organised Here at Platform, and Undesire, at Apex Art, New York
He was on the Bush Global Advisory Committee of the Walker Art Center (1999-2003), the International Foundation Manifesta board (2000 -2002). He is currently an advisor for the Israel Museumin Jerusalem. In 2002 he was a jury member for The Querini Stampalia Foundation-Furla for Art Prize, Venice and Onufru 2002, Tirana. In 2003, he served on the Jury of Internationaler Kunstpreis der Kulturstiftung Stadtsparkasse München, and the Jury for the International Exhibition 50th Biennale di Venezia. In 2004 he was a jury member for the Gwangju Biennale.
Kortun has been a guest professor at HISK/Higher Institute for Fine Arts, Antwerp, Helsinki Academy of Fine Arts, and Konsftack, Stockholm.